I felt my wings, paragliding at Bir Billing
My first paragliding flight form Billing……the second best natural paragliding site in the world.
My mom said, "I'll give you wings" and I said, ill take you along.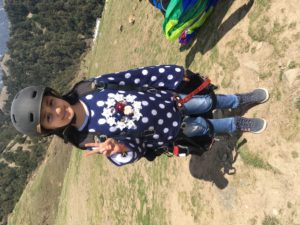 "Where should we go for the vacations?" asked my mother.
I said, let's go to Billing.
" We can see the flying human birds there", she said.
Can I also fly? I asked.
" I will make sure, you do." mom said.
Our journey 
Next morning we were on our way from Kangra to billing. For me, the beauty had just started to unfold. Through my car window, I could see all the shades of greens and a  river flowing freely. It looked naughty, as it rushed tickling both its banks. It took us three hours to reach Billing but the time flew. It was my first paragliding flight and mum's first with me, so both of us were equally excited.
We reached Bir. It is the landing base for the paragliders. All the offices of the paragliders from where they take the booking are here.
Tea gardens at Bir
While waiting for our pilot, his name is Shamsher bhaiya,  we clicked a few pictures in the tea gardens which were next to the road. My mother had already done a story on Shamsher bhaiya. He is so passionate about flying that when he was a youngster he made a parachute out of plastic bags and took a flight in it.
Shamsher Bhaiya
He is a professional pilot now. Few of his co-pilots were centre minister Smriti Irani and Bollywood actress Preity Zinta.Today I was  his co-pilot.
Our pilot had just reached and had asked me to try my harness and helmet. Not many kids try their hand at paragliding. I was already super excited.
We started on our journey to the top of the mountain. It was a steep escalation. The view from Billing is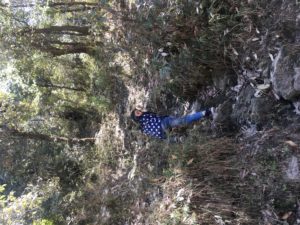 breathtaking. The mountains have an openness about them. Bir the village looked like a flat plain ground with colorful rooftops. The snake road that we were climbing on was through the rhododendron jungle. Rhododendron is the state flower of Himachal Pradesh. As I was busy enjoying the view, a strange voice came and our car stopped.
A crisp track
The driver announced that the tyre is flat and everybody should get off the car. God was only making my trip better. I got some time to climb the mountain. It was tricky but I managed it a little. Again the time flew and we got a call to sit back and start our journey up, up and up again. From Bir to billing it takes around 30-45 minutes. Billing is the second best natural paragliding site in the world.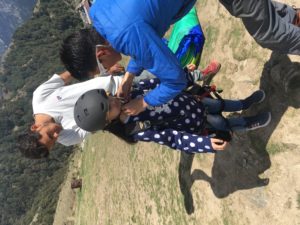 Billing
We reached Billing. It was a natural flat mountain top. This day was making the memories for a lifetime for me.
I had butterflies dancing in my tummy. Shamsher bhaiya had already spread his new rainbow color glider on the ground. He and his assistant starting locking the harness around me. Now,  Ok! wait  guys! Why am I on the front seat?? No, nothing doing,  I will sit in the middle."This was not possible," mom said.
The butterflies in my tummy had taken their flight already. So, I decided I will not take mine.
 I said a 'NO' and all the activity around me halted. I was wondering, how excited I was for it but what had happened? Leave it, I said, birds are birds and I am not one of them. while we were in the car, I heard Shamsher  bhaiya telling mom, "Ma'am we paragliders  play with nature every day. A slight nervousness and a lot of humility are required in every flight."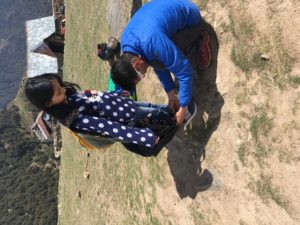 Therefore, with the butterflies my tummy I delivered my heavyweight dialogue.
"Let's not play with nature guys." 
 Lets not even try.
Like always mom stepped in. She asked Shamsher bhaiya to remove my harness and then she took my hand.I knew my resistance was over.
 She asked me if I trusted her? It was an obvious yes,but with my heart thumping and shouting…I wanted to say, mom lets talk logically and not be emotional. Anyways, I was again fixed in the parachute with my harness.
I felt my wings
Those few steps which turned me into a flying bird and gave me wings were only felt physically as I had closed my eyes. I was crying as I had never before, my tongue was out and I was making strange sounds. The next moment all I knew was I was sitting on my harness comfortably and me, mom and Shamsher bhaiya were in the sky.
It took me a few seconds to believe it. I was flying like an eagle. I had wings. The trees, the ground was far beneath me. I could hear loud laughter of my mom teasing me but I chose to concentrate on the spectacular view. I was awestruck with the experience.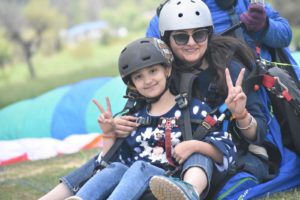 Landing
We stayed in the air for around half an hour. I did not want to land but we did land. It was another adventure. I thought that we might bang but it was a smooth landing.No doubt mom had chosen the best pilot for my first flight.
He made me laugh and comfortable on the flight. Most important he kept me safe.You can book your flight with him by contacting him on 9882345529.