The impression.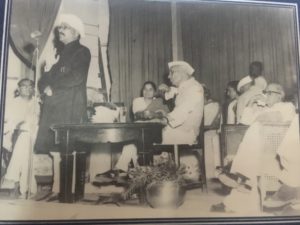 Pandit Jawahar Lal Nehru requested him to speak for 20 more minutes when he heard him for the first time in a conference. Doctor Rajendra Prasad spent hours confabulating over an array of topics with him. He was  best pals with Lal Bahadur Shastri,  Babu Jagjeevan Ram as well as Gulzari Lal Nanda.
How many of us know, who was the first speaker of Himachal Pradesh's legislative assembly? Are we also aware that it is his birthday today? 
Introduction of the white hat.
 He was Pandit Jaiwant Ram Upmanyu, from tehsil Bhatiyat of district Chamba. Possessor of multifarious glories, he made Bhatiyat prominent in India. Many betwixt the first which he had, was the honor of being the first Indian origin principal of Chamba state. 
He inscribed five books during his lifetime. Jaiwant Ram went through a tough grind to deserve the unmatched. Born on 14th of August 1890 in Chamba, he was the first BA-BT from Chamba State.
Restricted means and the rearward area were  not a hurdle in his way.His introductory education was from Chamba, while the higher studies were completed in Lahore.
Family tree.
He was a father to eight children.His house had a tantamount ratio of boys and girls. They were Maheshwari Devi, Gargi Devi, Shiv Kumar Upmanyu, Ram Kumar Upmanyu, Urmila, Kamini, Sant Kumar Upmanyu and Krishan Kumar Upmanyu.
The real life parable.
 Krishan Kumar Upmanyu (youngest son) shared an incident divulged by his mother. As a child, Pandit Jaiwant Ram was flecked by a peer that he is from a  poor family. This made him skittish. In this scenario, he feared a suspension of his studies. Frazzled, he went to his mother. Where he asked, are we penniless? His mother hunched her son's qualm. She gave a two rupee note to a cohort and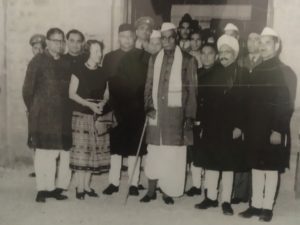 requested for the coins of the same value in return. with the coins, she filled a small trunk. After which she called her frazzled son. He was asked to lift the lid,  just a little and feel what was inside it. Jaiwant Ram did as instructed. she said ,"This is gold. We have trunks brimming with gold. Drop all your anxiety and study". That was the last day Jaiwant Ram ever worried about finances. 
His level-headed and zealous approach made his intellect a treasure for Himachal's politics. He was a devout believer of education."I was small at that time but I do remember that Pitaji always uses to sit on the ground cross-legged, engrossed in the books. He was surrounded by a minimum of 70-80 books.They invariably had three to four dictionaries among them", Said Krishan Kumar Upmanyu.
Love for books.
Pandit Jaiwant Ram presupposed that the investment in knowledge payed the best interest. Therefore, he installed a library in Vidhan Sabha.He had already retired as a principal Chamba State when he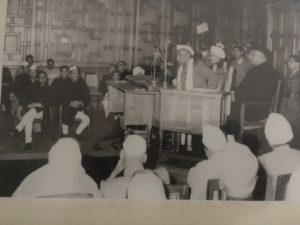 took the chair of the Speaker Himachal Pradesh. He was an intelligent man with exceptional oratory skills
In 1960's a principal from a school in London visited Chamba. She was working in coordination with Shiv Kumar Upmanyu. Before returning she requested a meeting with Pandit Jaiwant Ram. An appointment was fixed. Prior to the meeting, she had asked Shiv Kumar who was an intellectual with notable fluency in English that, " does your father speak English? To this, he had replied yes fairly."She was taken to the study where Jaiwant Ram sat on the ground while he was writing. Krishan shared that , that native English speaker was exasperated after her meeting. She notified Shiv Kumar that,"I thought you have the most preeminent vocabulary but your father is phenomenal".
 Upmanyu family never claimed Jaiwant Ram's pension for his tenure as a speaker. His honesty was a known fact.  when he retired as the Speaker he paid for the official car that dropped him back to Chamba out of his own pocket. 
His vision.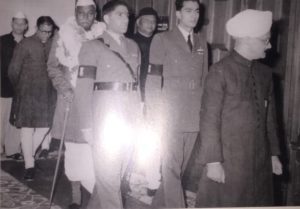 He has a vision for his hometown Bhaityat in Chamba district. It was to see the youth educated and employed. Jaiwant Ram  wanted to see it connected and at par with the rest of the country. For it to happen he knew education is the only key.
The family strength.
After him, his eldest son Pandit Shiv Kumar Upmanyu, gave up his job to work for the people of Bhatiyat. He served as a MLA as well as a  minister.Like his father, Shiv Kumar Upmanyu is a orator who is  known as a man of worthy intellect.Shiv Kumar  remained active in politics from 1962-2003.
Sant Kumar Upmanyu is from the first batch of All India Institue of Medical Science (AIMS)Delhi.He went to America in 1960's and is a cardiologist there.
The youngest son Krishan Kumar Upmanyu did not join the mainstream politics. He gave his support from the political corridors.He remained the secretary of congress Chamba as well as secretary cricket association Chamba from 1962-1970.He was also a scintillating cricket player.
Ram Kumar Upmanyu retired as Deputy Director Industries Himachal Pradesh.
To fill the vacuum.
After 2003 Upmanyus accosted a vacuum in politics.To fill the gap and walk on the footprints of Pandit Jaiwant Ram his grandson Vishal Upmanyu has come  forward. He left his well-established job to enter the political arena. 
when questioned about the risk that he has taken he replied, "I will take every chance for my people and for them, I have dropped every fear. Everything in life that matters requires risk and Bhatiyat matters to me," said Vishal." In politics, nothing happens by accident. If it happens you can bet that it was planned that ways.".Joining dots he shared an incident. "Once when I was a young.Our vehicle got stuck in the mud in Chamba.A passerby commented that 'see this is Chamba'.This was countered by another passer-by  who said, 'Jaiwant Ram laid these road sand Shiv Kumar meateled them. They will make them again.
The future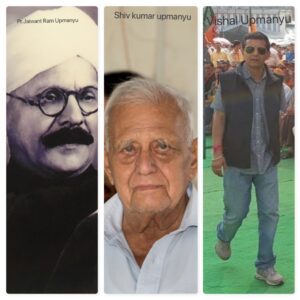 "I understand the problem. Our people do not want college at their doorstep. They are ready to travel but to a college which provides a quality education and boost their confidence" said Vishal. He is the third generation  of Upmanyu family. He is working to connect the outside world with his part of the world. His core areas of work are education, water, health, and connectivity through better roads. He made available English classes to the rural youth."Our kids are extremely hard working,  grooming will take them places, " affirmed Vishal. "It is the 128th birth anniversary of my grandfather.Here  I stand among my people and I am glad I took the decision of returning to my roots".